Xbox One smartphone concept is one of the most interesting we've seen in a while
30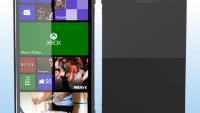 We love smartphone concepts. We can't help it. They always offer an interesting break from the rumor mill, and allow for a bit of a flight of fancy. Unfortunately, the bigger the rumor mill gets, the fewer concept renders there are because designers don't have to dream about what's coming next, we already basically know. But, a new concept is out showing what it could be like if Microsoft were to build an Xbox One smartphone.
O2 Guru, TechRadar and 3D Video artist Raphael came together to design the Xbone smartphone and ended up deciding it should be a phablet. The theoretical specs include a 6-inch 1080p display, an octacore processor, 4 GB RAM, 128GB of storage (plus microSD slot), and a 25MP rear camera. There would also be a 15MP
front
camera which supposedly would offer Kinect-like functionality, and bumper triggers on the side. Interestingly, the idea is to have the device dual-boot Windows Phone 8 and the Xbox Live OS, just like how the Xbox One runs Windows and Xbox OS.
And, for the topper, you would obviously be able to connect the phone to an Xbone controller and play just like the NVIDIA Shield. All in all, it looks like it would make for a pretty slick piece of hardware. If only it were real.