XOHM is live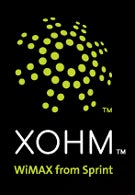 3G? Ha, that's
so
yesterday! The service has been in
trials
for months now, but Today marks the official commercial launch of 4G as Sprint has gone live with it's XOHM WiMax service in Baltimore, MD,
right on time
(ok,
a little late
.) XOHM marks a radical shift in the business model of wireless; it is a truely open market that comes without contracts or walls. Plans will be offered by the month for both home ($25) and on-the-go ($30) service, with day passes ($10) also available. These these prices cover multiple devices, though if this is the case we are a bit confused about the
"$50 'Pick2 for Life' monthly service option covering two different WiMAXdevices
." There is no restrictions on what products can use XOHM service, and we fully expect to see it appear in both traditional applications like a laptop modem as well as consumer electronics such as cameras and mp3 players. No contracts means no subsidies, and consumers can purchase their equipment wherever, whenever.
Two devices are available today, both modems; an aircard by Samsung is going for $59.99 and the other is a
ZyXEL modem selling for $20 more. The Nokia N810 is expected later this year, along with more modems and laptops with the techonology embedded. The press release mentions a dual mode 3G-4G device that will work on the Sprint network slated for later this year, which most likely menas we will see XOHM capable handsets soon. Check out xohm.com for the full details.

source: Sprint