Wrapsol iPhone 5 Ultra Xtreme Screen Protector hands-on
12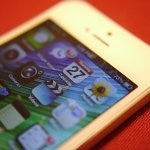 Obviously folks, there have been countless screen protectors that we've scoped for various phones. From
tempered glass ones
to others that are tagged as being "
spray-on
," there's no arguing the abundance of them. However, when it comes down to it, we merely have them in place to protect our prized gadgets. With that in mind, we're taking it back to the basics, as the
Wrapsol Ultra Xtreme Screen Protector
is made to not only protect against scratches, but impact as well.
Frankly, the application process is by far the most stressful thing about the Wrapsol Ultra Xtreme Screen Protector. Just like everyone, we want it to be perfect as it's fitted on the first time around. On one hand, we like that the fact that it's a
100% dry application process
. Compared to other screen protectors, which require some sort of liquid application to adhere properly, this dry process won't make us cringe knowing that liquid is coming into contact with it. However, we find ourselves struggling to iron out any trapped bubbles with the included squeegee, which is none other than a thick stock of cardboard. Unfortunately, we're left to accept some of the bubbles that still linger around – thus, becoming extremely noticeable as the device is powered off.
Turning it on though, the bubbles aren't much of a distraction, as they blend in better with the display. As for some of the other things that we like about the Wrapsol Ultra Xtreme Screen Protector, they consist of its
glossy look, optimal screen clarity, and resistance to smudges and fingerprints
. Of course, it's mentioned to be resilient to scratches and impacts too, but we're not too daring in making our handset the guinea pig for that test. Even though the bubbles are an eyesore at the moment, they apparently will become easier to push out after 24 hours. At
$30
for two pieces of
high-strength polyurethane
that cover the front and back of the iPhone 5, some might view it as excessive, but then again, it's well within the pricing structure of other similar premium screen protectors out there.