Dynaflo LIQUID-ARMOR Screen Protector hands-on
10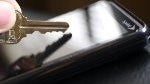 If you haven't noticed it yet on our site, we're still
fans of screen protectors
. Call it strange or something, but consumers are really fascinated about the various kinds of screen protectors out there. From
bubble-free ones
to those that are touted as
being scratch resistant
, there are various kinds to appease the wide array of tastes out there, but interestingly enough, we've come across one that's mentioned to be "
invisible
" and scratch resistant.
Are you curious yet? Well, we certainly hope so because we were initially skeptical about the
Dynaflo LIQUID-ARMOR Screen Protector
. Dubbed as the
revolutionary
way of protecting displays of any kind, it's a
spray-on invisible screen protector
that offers superior protection – including scratches and is water spill resistant. Essentially, you spray on the Dynaflo LIQUID-ARMOR solution onto the included microfiber cloth, and wipe in one direction to evenly coat the surface.
So yeah, it's an "
invisible
" screen protector that also has a high-gloss finish to it when it's completely dry. Furthermore, it's touted to be repel both dirt and debris much better than your typical screen protector as well. Naturally, there's a lot of talk with this intriguing
$24.99 retail priced item
, so we're going to see if it can walk the walk.