Wozniak says the iPhone sells well despite its price because it is a safe bet
99+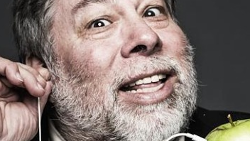 Steve Wozniak is a living legend. As co-founder of Apple, the Woz was there at the very beginning. His insight into Steve Jobs is a unique one, and despite his place in tech history, you won't hear any bragging coming from him. Because Wozniak left Apple for good in 1985, well before the series of "iDevices" came out and changed the world, you don't really hear his name mentioned in conjunction with the development of the iPhone. But Wozniak is a student of the smartphone market.
While in China earlier this week, the Woz pointed out how well Chinese smartphone manufacturers use intelligent designs to produce low priced handsets with plenty of functionality. More importantly though, Wozniak has come to a conclusion on why people buy high priced Apple products. He says that consumers purchase expensive Apple devices like the iPhone, because they are the safe bet. In other words, when you buy an iPhone, you know what to expect, including reliability and innovation. "When you love Apple, you are willing to pay for it," he said.
This year, Wozniak's theory is going to be severely tested as rumors have the tenth anniversary iPhone
wearing a price tag starting at $1,000
. Talking about Apple's fading market share in China, Wozniak says, "You may not have the hugest share in the market or be the No. 1, but you should have the best product you can possibly build and Apple qualifies for that."
source:
SouthChinaMorningPost
via
CNET