Woz on Microsoft's Surface: "I want to own one. I want to use one."
23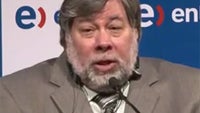 Apple Co-Founder, Steve Wozniak, is no stranger to
giving his unbiased opinion
on whatever the latest and greatest is in the tech world. When it comes to what Microsoft has been doing recently, he likes what he sees.
Recently at the Entel Summit in Chile, Woz spoke on a number of various topics from MegaUpload's Kim Dotcom to what he would like to see in the future of mobile devices. Along the way Woz spoke about some of things coming out of Microsoft's camp.
"I do see a lot of stuff coming out from Microsoft in the consumer arena. A lot of people like to say that Microsoft's had no successes in the last so many years, but the Xbox is a success, and certainly Kinect."
He raises a good point. Many people don't realize that the Kinect actually beat out the iPhone and iPad's launch number to grab the Guinness World Record title of 'fastest selling consumer electronics device.'
He went on to comment on the Nokia Lumia handsets running Microsoft's Windows Phone and it's upcoming, self-made Surface tablet. "They have such a striking visual appearance, which is a lot of what Steve Jobs was always looking for -- the art and technology, the convergence of art and technology."
Woz joked that he thought Steve Jobs may have been reincarnated somewhere at Microsoft.
"I want to own one. I want to use one," he said of Surface. "I'm glad that Microsoft is starting to show that maybe they're a different company than before. I don't remember this sort of thing happening in a long, long time from Microsoft."