Would you use a tablet to take photos and/or record video? (poll results)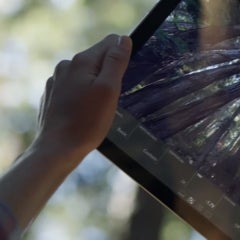 In recent years, smartphones have become bigger and bigger, often being almost as large as some (smaller) tablets. Even so, tablets aren't going anywhere, and some now actually have phone capabilities, allowing you to make and receive calls. But one of the things that most tablets have in common is that they feature rear and front cameras.
Obviously, tablet manufacturers expect users to rely on these devices, at least at some point, to take photos and video. In fact, Microsoft recently released a promo video - embedded below - suggesting that its Surface Pro 4 (a 12.3-inch tablet) is great for photography. And while its rear camera may be a very good one, snapping photos with a device that big can be challenging. With that in mind, not long ago, we
published a poll
asking you if you'd use a tablet to take photos and/or record video. Only 11.7% percent of those who voted said that they would do it, or they're already doing it.
47.83% voted for "maybe, if I really don't have any other device around", while 40.47% are definitely not fans of using tablet cameras for photography or video recording. Is anyone surprised by these findings?