Would you like it if TouchWiz really went flat?
51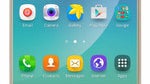 Just an hour ago, we reported on
a meaty leak
containing some intriguing screenshots of a supposed preview build of Samsung's Android Marshmallow-based TouchWiz interface, apparently running on the
Galaxy S6
. Interestingly, the images suggest that the South Korean giant is prepping a design overhaul for the next iteration, with a decidedly flatter styling — much alike to what we've been observing lately throughout the rest of the industry. Seeing as how a very similar-looking set of UI changes were present with a previously leaked batch of
Note 5
screengrabs, we're starting to think that Samsung may, indeed, be already in deep with this.
The recent escape from design skeumorphism came as a bit of an unpleasant surprise for many, with some claiming they prefer the 3D-esque styling of old to the flat, minimalist look that has taken over our smartphone interfaces. For the most part, though, it's a matter of preference, and we tend to appreciate this more simplistic approach. The question is, however, do
you
appreciate it, and specifically in the context of this yet unconfirmed transition for TouchWiz?