World at Arms, Gameloft's free-to-play modern-war strategy, now out for Windows Phone
6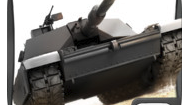 One of Gameloft's quite popular games, World at Arms, has been finally released for devices that run Microsoft's mobile OS. If you have ever played the Command&Conquer: Red Alert game series, then World at Arms would most likely feel quite similar – it's a strategy game that depicts a modern war conflict between fictional nations.
The singleplayer aspect of the game requires players to defend their nation from the "evil KRA forces" that wage war on the entire free world. The gameplay of World at Arms sticks to the basics of the strategy genre – apart from battling the enemy's units, gamers have to build their own base, collect resources, train new troops, and manage their economy. The graphics, as well as the overall gameplay of World at Arms, are quite similar to the aforementioned C&C: Red Alert, and both will be most probably fancied by the mobile gamers, who like strategy games with a little more depth.
The game is touted as the only modern-war mobile game that allows players to explore and battle their enemies in the deep sea. Apart from naval warfare, gamers have to fight the KRA forces on various maps across the world, each with different environment and graphical style.
World at Arms comes with multiplayer on board, as well – players can either team up and create factions or challenge and battle each other. The most agile gamers can also find themselves on top of the global leaderboards, too.
Gameloft's strategy is a free-to-play title, which comes with the typical for the developer expensive in-app purchases. The recent addition to the Windows Phone store is also available for Android and iOS devices.
Download: World at Arms (
Windows Phone
|
iOS
|
Android
)