With your smartphone, you can have an in-home health lab with Cue
3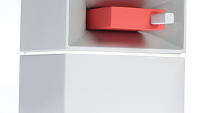 If you've ever watched one of those television medical shows, like
House
, or
ER
, you know how important the lab is in diagnosing a patient. Usually, you hear a Doctor reciting a litany of alphabet soup. "
Get me a CBC, with ANA and C-Ancha
." And don't forget every one's favorite, the tox screen. Starting next year, you will be able to conduct your own tests right at home using blood, saliva or nasal fluids, with Cue.
The company behind the product wants to push out beta versions of the hardware and software sometime next year. For $199, you will be able to run your own labs, see if you're sick, and if you are, find out what's ailing you. At the same time, you can check you testosterone levels. Other tests will be available for the flu, inflammation, fertility and Vitamin D levels. You can save yourself from having to visit the Doctor so often.
The Cue uses cartridges for each test. You cannot re-use them. A package of five cartridges will cost you $20, while the Flu test will cost $30 for a package of three. The results of each test are sent by Bluetooth to your smartphone, where it can be analyzed using an app. The Vitamin-D test is just 10 minutes, and the Flu test is three times faster using Cue. The device's inventor, would like to see he cartridges covered by medical insurance plans and Medicare.
Since Cue has not been approved by the FDA at this point in time, it must be classified as an "investigational device" and cannot be sold in stores. Once the FDA does approve Cue, it can help ease your mind, or feed your hypochondria. You can pre-order Cue now at the sourcelink, for a 33% discount. The device is expected to begin shipping next spring.
source:
Cue
via
TheVerge
,
GSMArena