With the T-Mobile One Plus add-on, $25 extra will get you HD video and unlimited LTE mobile hotspot
7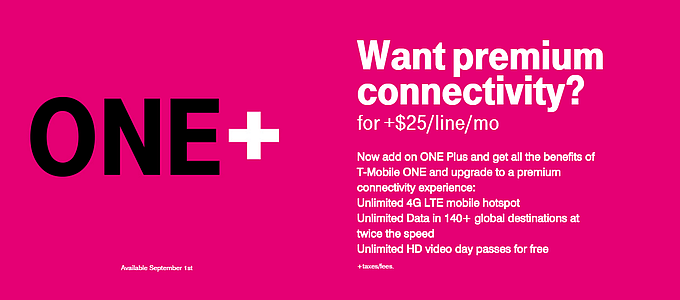 Last week, T-Mobile surprised a lot of people by introducing a new and rather
controversial unlimited plan
. In the days that have passed since the
T-Mobile One plan
was officially unveiled, numerous wireless service subscribers and net neutrality groups have criticized the plan for two of its fine prints: videos limited to 480p and mobile hotspot usage at 128Kbps. In what's likely an attempt to calm waters, T-Mobile today has announced several modifications to the T-Mobile One plan.
One of the changes affects mobile hotspot usage, as the carrier has boosted the speed of unlimited mobile hotspot to 512Kbps. With the initial T-Mobile One plan, the carrier promised unlimited mobile hotspot usage at a speed of 128Kbps. That's four times the initially announced speed, and something that many future T-Mobile One subscribers will surely appreciate.
T-Mobile also announced that it will offer HD passes for $3 for 24 hours. What this means is that customers will be able to stream as much HD video as they want for 24 hours after activating the $3 add-on.
The biggest news from T-Mobile today is the introduction of a T-Mobile One Plus add-on. Costing $25 per month for each line, the add-on includes unlimited mobile hotspot data at LTE speeds as well as an unlimited number of HD passes. The interesting bit is that users will have to activate each one individually; in 24 hours, the HD pass will expire and video streaming will return to 480p quality.
The T-Mobile One Plus add-on costs $25 and basically replaces the old HD pass, which T-Mobile initially planned to sell at $25 per month per line. Furthermore, the add-on also includes what T-Mobile calls 3G-like data roaming speeds when traveling abroad.
T-Mobile also announced that it will start offering the new T-Mobile One plan, which will become the only plan that the carrier offers to its new customers, starting September 1st. Initially, the T-Mobile One plan was scheduled to launch on September 6th.
The T-Mobile One plan will cost $70 per month (for the first line, discounts apply to additional lines), but only if you have autopay set up. Otherwise, the plan will set you back $5 extra per month.

What do you guys think of the amped up T-Mobile One plan?