With Multi ID on the G8 ThinQ, LG adds the convenience of choice to biometric security
9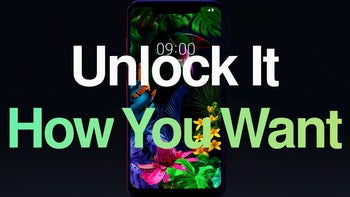 As smartphones host more and more personal information such as family photos and even credit card details, security has become a greater issue in the minds of consumers. Accordingly, passwords have evolved from PINs to fingerprint to facial recognition in the name of greater security.
LG thought about adding an extra convenience layer to biometric security when developing the
G8 ThinQ
by providing multiple recognition tools that negate the disadvantages of each separate one. Its so-called Multi ID concept is available to customers for use in diverse situations and environments, even in the dark, with the addition of unique authentication methods that are only available on LG's newest G series flagship phone.
Not all face recognition is the same
The first shots at facial recognition security, some of which are still in use by many phone makers, have come under scrutiny for being hackable. Two-dimensional facial recognition technology can easily be fooled with a 2D image bearing the owner's likeness, for instance. The next-gen used structured light which projects an array of invisible dots onto a user's face. This may result in less accuracy in extreme lighting conditions, i.e. a dark room or in bright sunlight.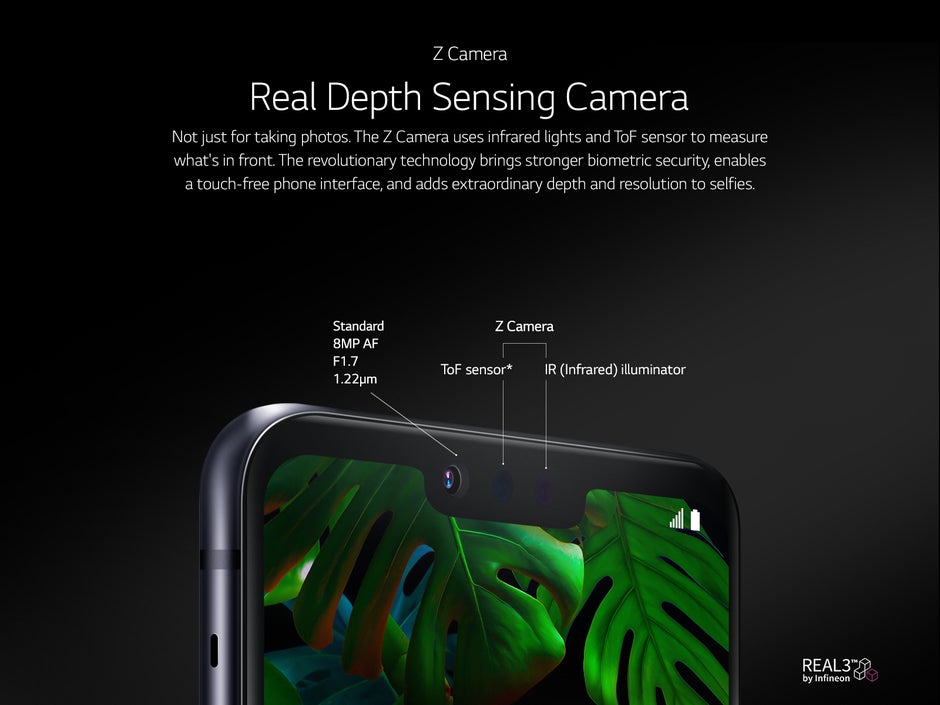 The third and heretofore final iteration makes a 3D scan of a face with a Time-of-Flight (ToF) sensor and that's precisely what Face Unlock on the LG G8 ThinQ employs. This component bounces infrared light off the user's face and captures its reflection to calculate distance. Thus, the G8 can't be fooled with a photograph which the ToF sensor sees as a flat image. The ToF sensor in the LG G8ThinQ can accurately identify an owner's face in different lighting situations because it reads invisible infrared light.
High-tech palm reading
Vein authentication is a relatively new method of biometric authentication that allows one to unlock the phone with the palm of the hand. This innovative palm-reading technology works by extracting a user's unique vein pattern by illuminating the palm with infrared light. The deoxidized hemoglobin streaming through veins absorbs this infrared light, with the non-absorbed reflecting light creating a map of one's veins that is unique to every individual.
Because palm vein recognition relies on veins that run beneath the skin surface rather than on a finger's surface, replication is nearly impossible offering a higher level of security. Vein authentication technology is so secure, in fact, that it is finding a receptive audience in the financial and government sectors.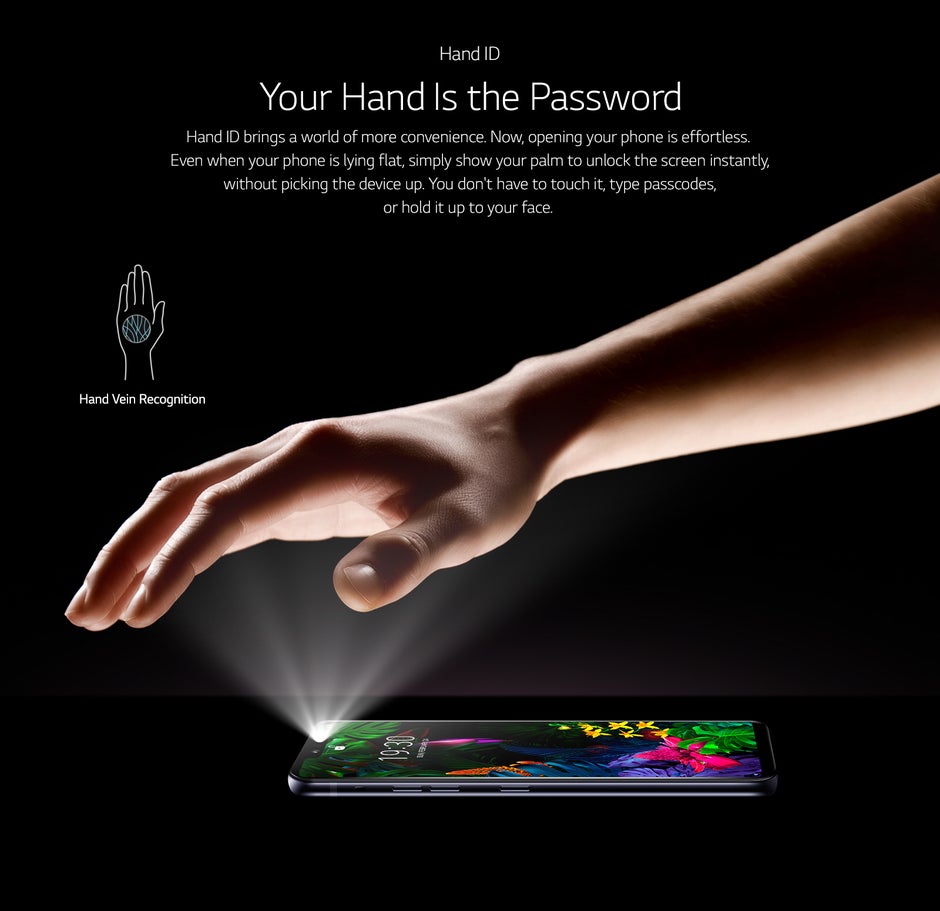 In the LG G8ThinQ, vein authentication has been applied for the first time on a smartphone with a biometric authentication method called Hand ID. Imagine your phone lying on a desk while you're busy typing a report or mounted on your car dashboard, situations where unlocking the phone with a finger or face may be difficult or inconvenient. In these situations, being able to unlock the phone with a hand gesture would be ideal.
Users will place their hand over the Z Camera sensor and by scanning the surface of the palm with infrared rays, Hand ID can compare this scan of a user's hand with the previously registered pattern. Hand ID is perfect for users who need a quick – but safe – way to unlock their phone without touching the screen.
The Z Camera's time-of-flight technology is also at the core of another convenient UI feature which LG calls Air
Motion
. By placing one's hand over the G8's Z Camera, users can use natural hand motions to control the smartphone. Pinching one's fingertips invokes screen capture without even touching the display, eliminating the difficult and usually unsuccessful process of depressing the power button and volume button simultaneously. Rotate your hand clockwise to increase the volume when listening to music, counterclockwise to silence. Using a smartphone doesn't get much easier than this.
Fingerprint sensors still come in handy

Even with newer technologies such as Face Unlock and Hand ID, fingerprint security still has a place in today's smartphone. LG was the first smartphone maker to introduce a fingerprint scanner on the back of the phone where the index finger naturally falls. Since then, many other phone makers have followed this design with their own rear mounted fingerprint sensors. Even as OEMs introduce new, innovative security features, LG understands there's no reason to get rid of a perfectly good way of unlocking our device without even looking at it.



These three biometric identification methods that LG collectively calls Multi ID on the G8 ThinQ offer unlock options to fit any situation, even in times when you are not able to look at the phone directly, offering equal measures of security and convenience to the G8 user.