With $70 billion in the till after the end of this quarter, Apple could buy many of its competitors
54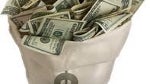 With companies like
RIM
and
Nokia
having problems, both firms have been listed as potential takeover candidates for
Samsung
or
Microsoft
, two of the more well-heeled firms in the handset business. RIM's shares, in fact, fell to a 52 week low of $27.08 on Friday, down 21% on the day after reporting lower than expected Q1 earnings and cutting estimates for the
second quarter
and the
year
. In fact, the rumor mill has been full of possible deals like Microsoft buying Nokia or Samsung buying RIM. Right now, there are no strong signals that any these deals are
seriously
being considered.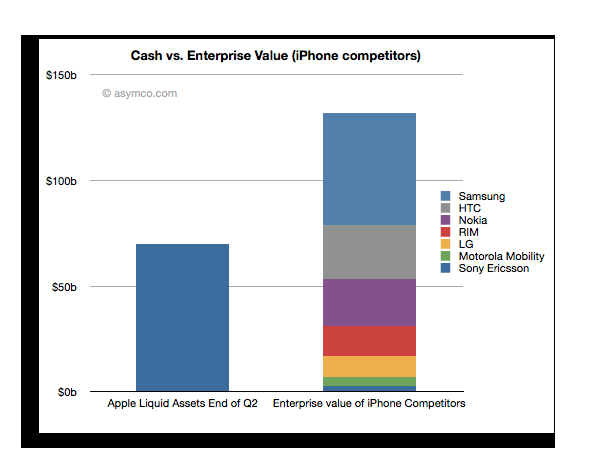 At the end of this quarter, Apple will have enough cash to pay the enterprise value of the manufacturers of 75% of cell phones in the industry
One interesting, but highly unlikely scenario, involves
Apple
. The iPhone manufacturer is expected to have a
treasure chest
of $70 billion in cash at the end of the current quarter according to Horace Deidu, an analyst with
Asymco
. Even without using its high priced stock for currency, Apple can take its $70 billion war chest and buy up the manufacturers of 75% of the handsets in the cell phone industry.Even more amazing, take out Samsung and Apple could buy the remainder of the entire industry for cash!
While the Federal Trade Commission would never agree to approve such a transaction, if Apple were to pay the enterprise value for RIM ($13.8 billion), Nokia ($22.6 billion), HTC ($25.4 billion) and Motorola Mobility ($4.2 billion), it would cost them $66 billion-less than the amount of cash Apple will shortly have on hand. In real life, of course, one would have to offer a
premium
price to the shareholders in order to buy them out. That is where Apple's high priced stock would come in handy. A combination of
stock
and
cash
would be more than enough to get a deal done. But alas, it is just a pipe dream because of
anti-trust
laws.
Still, Apple would probably be able to get approval to purchase one of its rivals excluding Microsoft. Would you like to see them go for an
Android
manufacturer like HTC or Motorola, or aim for RIM? Apple has been able to amass this cash hoard because of the incredible profitability of the iPhone. With just 4% of the worldwide handset market, Apple brings in
more than half
of the industry's profits. Could you imagine the pile of cash Apple would have available to tap if it increased its market share just a little?
source:
Asymco
via
AppleInsider
Recommended Stories