Wireless may be fast, but fiber reigns supreme; imagine a 43Tbps connection
20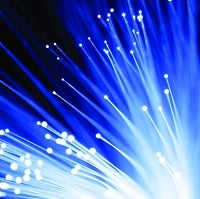 While we are thoroughly enjoying faster LTE data speeds across much of the United States and elsewhere in the world, the truth is there are inherent limitations to wireless technology that we have not been able to overcome just yet.
Science will certainly find a way to not only squeeze more bandwidth and throughput out of spectrum, but also find solutions to
enhance and increase coverage
.
Even with those ideas implemented and we find ourselves enjoying a future of unhindered data and coverage, the fact is that once our signal hits the antenna, things live in a "wired" world. Indeed, a huge factor in the data speeds we enjoy is affected by this infrastructure (also referred to as "backhaul").
In rural areas, engineered circuits are more than capable to provide the necessary bandwidth to an available user base with several hundred megabytes per second of transport at the ready. In the urban areas, those connections are made via fiber, transmitting data through different wavelengths of light (frequency, intensity, and color). Data speeds are measured on an Optical Carrier (OC) scale, outrunning traditional circuits by a long shot. Whereas engineered digital signal connections will max-out at roughly 400Mbps, common commercial fiber connections are usually made using SONET (Synchronous Optical Network) rings and point-to-point with OC-48, or better, connections (2.5Gbps or more).
In research applications, optical technology is achieving data speeds that just stifle the imagination. Recently in China, switchgear manufacturer ZTE and China Telecom were able to sustain
an error free 1-terabit-per-second connection
over a single strand of fiber spanning 3,200 kilometers for 24 hours straight.
Meanwhile, at the Technical University of Denmark (DTU), a team of researchers were able to shatter records by transmitting a
43Tbps
signal over a single strand of fiber using only one trasmitter. To put that in perspective, 43-terabits-per-second (Tbps) is 43,000,000 megabits-per-second (Mbps), or basically a million times faster than what some folks see with their connections today. If that still does not make sense, imagine downloading your favorite full-HD movie in less than a millisecond. A 1GB file would take about 0.2 milliseconds.
DTU's accomplishment is not quite double the previous record of 26Tbps set by the Karlsruhe Institute in Germany. The fiber used in DTU's research was developed by NTT in Japan. It is one strand of fiber, but each strand has seven "cores" or threads. DTU used one laser to transmit the data, and all seven cores of the "multi-core" fiber, lending itself to such blazing speeds.
What does this mean for us the end user? Nothing in the near term, but as industrial applications become more cost effective with technological development, expect the "wired" side of the house to advance with the "wireless" technology for consumers.
source:
DTU