Windows RT to come with Office 2013 RT Preview: no macro, VBA support, some other features missing too
5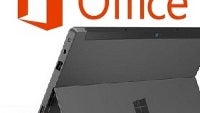 The iPad virtually created the tablet market in 2010, Android tried to catch up slowly, and now Windows 8 is coming to try and make a dent in there too. And apart from its new user interface (don't call it Metro, Microsoft didn't do the trademark search, so now it's just the Windows 8 UI!), Windows 8's biggest advantage is Office. Yes, Microsoft's Office package is still the standard pretty much everywhere and having a full version of Word, Excel and PowerPoint on your tablet could well make some people buy that Windows 8 tablet.
Except, when it's running on ARM chips.
Windows RT
, as the ARM-based Windows 8 operating system is called,
will not come with the full office
, but rather only a Preview that will lack macros, VBA support, third party add-ins and a "small number" of other features. Bummer. The reason for that disappointing decision allegedly comes from battery life and reliability concerns.
The Office 2013 RT Preview will get an upgrade to a final version sometime in 2013.
It wasn't all that unexpected - Microsoft has kept suspiciously quiet and practically refused to talk Windows RT in depth suggested there's a reason for that. Now, it's clearer that just as the Office it ships with, the system itself give the full Windows experience - you wouldn't be able to go out of the Metro (oops, Windows 8-style) interface, and it wouldn't support existing Windows applications.
source:
TheVerge
Recommended Stories