Windows RT 8.1 removes default Desktop tile on Start screen
8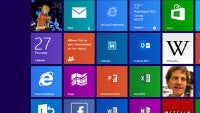 This move really shouldn't come as a surprise to anyone out there who has even a passing knowledge of Windows RT and the place Microsoft wants it to hold in the Windows ecosystem. But, Microsoft has confirmed that the Windows RT 8.1 update does indeed remove the default Desktop tile from the Start screen on devices, although the tile can be put back if the user wants.
The aim here is quite clear though - Microsoft wants to keep RT users in the Metro world. This makes perfect sense, and frankly we have always wondered why Microsoft even included the traditional desktop on Windows RT. Seeing the traditional desktop gives the impression that the device will work just like any other Windows machine and run the same programs that you're used to, but that is not the way Windows RT works.
Windows RT is designed to be the bridge between Windows Phone and Windows 8, and to leverage the (small, but growing) Metro app ecosystem available for the platform. Of course, there are rumors that Windows Phone is going to be
merged
, or possibly replace Windows RT altogether, and we have to wonder if there is any place for the traditional desktop on tablets after that move happens.