Windows Phone may have more market share than iPhone... in China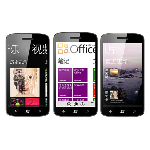 We've been seeing a pretty interesting trend in the recent numbers from around the world - Windows Phone is starting to gain traction, just not in the US. A little while ago, we saw that Windows Phone gained
market share in the UK
, and a few days ago we saw
a jump in Germany
and other areas, and now it looks to be doing the same in the world's largest market: China.
At least, that's according to Microsoft, which may not be the most reliable source for this kind of information. Windows Phone just launched 2 months ago in China, and Microsoft says that in that time it has made up 7% of smartphone sales, while Apple's iPhone was only 6%.
Earlier this month,
DigiTimes put out numbers
on the Chinese smartphone market which said that Android held about 66% of that region's shipments, and put the iPhone at 19% of shipments. So, either Microsoft's math is off, or there are a lot of iPhones sitting on shelves in China. With luck, we'll see more well sourced numbers soon because China is a huge market and even 7% would mean a lot of smartphones.