Windows Phone controls a 2012 Ford Mustang tricked out by West Coast Customs
11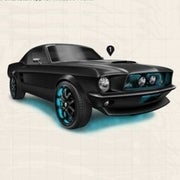 We think that Microsoft deserves a tip of the hat for coming up with Project Detroit. What is Project Detroit you ask? Oh, just a 2012 Ford Mustang tricked out by West Coast Customs. What is really interesting about the vehicle, however, is that it can be controlled from a Windows Phone handset.
Now, don't think that the car can be driven straight from a
Nokia Lumia 800
as that is something that is still reserved for the likes of James Bond for now. What you
can
do with a special Windows Phone app, however, is to change the vehicle's accent lighting, to customize the sound of its horn, and to display a custom message on the rear windshield. The Kinect that has been built into the dashboard can stream video wirelessly to the device, and the smartphone's microphone can send audio to the car's stereo. Also, by using the Viper SmartStart technology, the car can be remotely located, unlocked, and started all from a Windows Phone handset.
There are a whole lot more gizmos and gadgets that the car has been equipped with, and if you are interested in checking them out, just watch the Inside West Coast Customs show on Discovery Channel this coming Sunday, March 25 at 6:00PM PDT. Until then, you can check out the photos that we have included below.