Windows Phone at the top of the charts at Amazon
43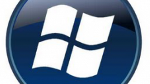 As we come to the end of the year, it seems that we might be looking at the start of a three-way battle for control of the smartphone market around the globe. The Nokia Lumia 800 has been successful
with its launch in the UK
and there is
talk of an LTE enabled model coming to Verizon and AT&T
in the States. While Windows Phone models still have a way to go to reach the sales totals put up by iOS and Android, the top 3 handsets offered on contract by Amazon, based on customers reviews, are all Windows Phone models.
Number one on Amazon's list of handsets that require a signed contract is the
HTC Titan
. Available on AT&T's network, the Titan lives up to its name with a 4.7 inch Super LCD WVGA display and has a 1.5GHz single-core Qualcomm QSM8255 processor under the hood. Also on board is 512 MB of RAM and 16GB of native storage. An 8MP camera on back captures video at 720p at 30fps, while there is a 1.3MP front-facing shooter. Amazon is offering this beast for $99.99 with a signed 2-year contract.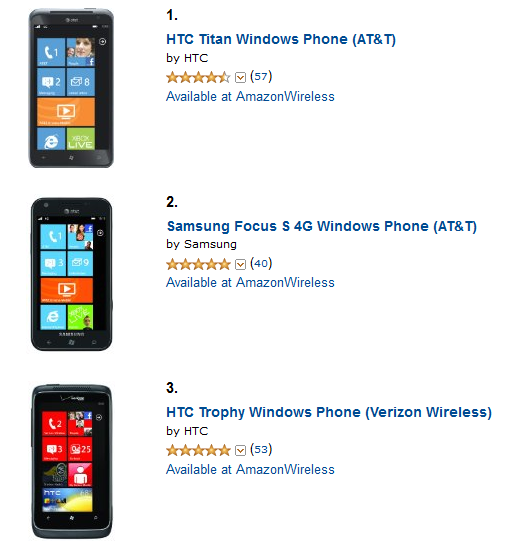 The top 3 smartphones at Amazon based on customer reviews are Windows Phone models
It might be impressive to see a Windows Phone handset at the top of the list, but it might be even more impressive to see such devices beat out Android phones for numbers 2 and 3. Behind the Titan is the
Samsung Focus S 4G
, also available for AT&T's pipeline. With a slim 8.55mm body, the device is equipped with a 4.3 inch WVGA display. Under the hood is a single-core 1.4GHz processor with 16GB of native storage on board. There is an 8MP rear-facing camera that captures video at 720p (29fps) and a 1.3MP front-facing shooter. Amazon is selling the phone for $19.99 with a signed 2-year contract.
Number three on the list is the
HTC Trophy
available for Verizon's network. A world phone, the Trophy has a 3.8 inch WVGA screen. Under the hood is a single-core 1GHz Qualcomm MSM8650 Snapdragon processor with 576MB of RAM aboard. 16GB of native storage comes with the device. A 5MP rear-facing camera with flash and AF, captures video at 720p (24fps). With your John Hancock on a 2-year contract, the phone is 1 cent.
It should be interesting to see where Windows Phone goes from here. By this time next year, will Microsoft's mobile OS be putting pressure on the green robot and iOS? Will it be
the Tango update
that makes it a three horse race
? And perhaps most importantly, is there a piece of hardware out on the horizon that will do for Windows Phone what the Motorola DROID did for Android?
In the meantime, the first Android phone in the top 20 is the Samsung Galaxy S II Skyrocket at number 4. Of the top 20, 14 are Android powered phones with the balance belonging to the Windows Phone camp.
source:
Amazon
Recommended Stories