Windows Phone Marketplace leaps past 19,000 apps
11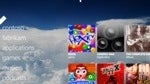 It may not have the same impact as learning that the Apple App Store has hit
500,000 total apps
, but the rate of growth is just as impressive for the Windows Phone Marketplace. The Marketplace crossed the 19,000 app marker today, which has more than doubled the number of apps in the Marketplace since March 1st.
In fact, as of just 5 days ago, the Marketplace hit the 18,000 app milestone, and has added over 1,500 new apps as of this writing to reach 19,637 total apps. In just the last, 24 hours the Marketplace has added 901 new apps, and looks poised to hit 20,000 apps no later than tomorrow.
Of course, total apps doesn't always tell the whole story as any Android user can attest, but the growth shows dedication from the developer community. The aim is not to hit a magical round number of apps in the store, but to hit a sufficient number of apps so there are no gaping holes in what users need. And, the Marketplace seems to be pushing towards that point.
source:
WP7applist
Recommended Stories