Windows Phone 8 celeb ad campaign goes with Olympian Kerri Walsh Jennings
14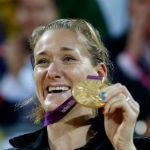 Microsoft has been spending quite a bit of cash on its Windows Phone 8 marketing campaign, and pulling in celebrities all along the way. There have been actors, musicians, and comedians, but now it's time to bring in an athlete as well. Not just any athlete, but a multiple gold medal winning athlete in Olympian Kerri Walsh Jennings.
The WP8 celebrity ad campaign started with
Jessica Alba and Gwen Stefani
, then moved on to comedian
Andy Samberg
, and the newest addition to Microsoft's gallery of stars is Kerri Walsh Jennings, who is best known as half of the US Olympic women's gold medal beach volleyball team with Misty May-Treanor. Together, the two won gold medals in 2004 in Athens, 2008 in Beijing, and 2012 in London.
This ad is a bit different than the past few. This one is not only longer, and goes a bit more in-depth with the Windows Phone, but it shows off some of the integration with Windows 8. That's always nice to see.