Andy Samberg the latest celeb to do a Windows Phone ad
17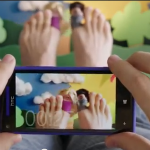 Microsoft has been sparing no expense recently in marketing Windows Phone. First, we saw commercials starring celebrities
Jessica Alba and Gwen Stefani
, but in the new spot, Microsoft has moved away from the ladies and brought in comedian Andy Samberg to show off his Windows Phone. The ad is definitely funny, as you would expect from Mr. Samberg, but there are a couple oddities in it as well.
The main conceit of these ads is that you get to see what these celebrities have on their Windows Phone Start screen, and how they use their devices. With this one, it's understandable that Andy Samberg would use his phone to listen to music, shoot little videos, or find movie showtimes. The one that seemed odd to us was the claim that he would use his phone to
write scripts
.
We've written scripts before, and beside the idea that someone would write anything of length on a smartphone, no screenwriter would use Microsoft Word to do their writing. There is very specific formatting that goes into a script, so unless you've got a ton of macros set up, it's just far easier to use dedicated scriptwriting software. There are a couple apps that can do this on Android, and the best software is Final Draft which is available on iOS, but no viable apps for Windows Phone.
Sure, it's a small point, but an important one.