Windows Phone 8 bringing dual-core processors, 720p screens and microSD cards (finally!)
26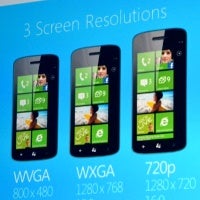 You probably already expected this, but now it's finally as official as it gets -
Windows Phone 8
is bringing support for dual-core processors "and more," 720p screens and expandable memory via microSD cards.
Those are the biggest hardware news about the upcoming platform and with the platform expected to ship on devices this Holiday season, you'll start seeing those much anticipated dual-core Windows Phones around then. Actually, Belfiore seems to be already holding a dual-core Nokia developer device on stage!
Windows Phone 8 also comes in three aspect ratios. Screens will remain at WVGA 480x800-pixel resolution and with 15:9 aspect ratio, but it seems that lower-end devices will feature such displays.
More refined devices will either feature WXGA 768x1280-pixel resolution and 15:9 aspect ratio, or 720x1280-pixel HD resolution and 16:9 ratio.
Good news is that memory is no longer limited to what's built in the phone, but you could also expand it via microSD cards. Great, isn't it?
source: Microsoft