Windows Phone 8 SDK may be coming September 7th
3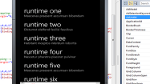 We've been hearing a number of rumors that say we may be seeing Windows Phone 8 devices hit the market in September, but a device is only as good as the apps available for it. There have been rumors that Microsoft has
seeded "VIP" developers
with Windows Phone 8 devices. Of course, there are a lot of non-VIP developers and for that you need an SDK.
The WP8 SDK was leaked a few weeks back, but not everyone trusts that sort of thing. Now, there is a thought that maybe the SDK will be officially released on September 7th. That idea comes from the guys over at WPCentral who have been obsessively going through information. Apparently, the schedule for Microsoft's TechEd conference in Australia holds some key clues. The conference is set for September 11-14th, and there will be 8 Windows Phone sessions planned (8, get it?). The thing is that all of the info for the Windows Phone sessions is embargoed until September 7th.
That doesn't necessarily point to an SDK release, but it definitely points to something important coming around September 7th. This isn't really a surprise given that
Nokia World
is happening just a couple days before that. So, it does make sense that Nokia World will have the
consumer preview
of Windows Phone 8, and that could mean an SDK release just a couple days later.
Recommended Stories