Another Windows Phone 8 rumor points to October 1st release
13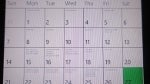 Last time we heard a rumor about Windows Phone 8 devices coming early,
we didn't think
it was too likely, but we thought that at least the announcement would be a good idea. It just didn't make sense that WP8 would be released before Windows 8 proper, especially with all of the effort Microsoft is putting into the Surface tablet, but leapfrogging Apple on the announcement seemed like a good idea. Sure, it's possible that Microsoft and/or Nokia would want to put out a device at the same time as the new iPhone, but of course releasing at the same time isn't really the same as competing with.
It seemed to us that Microsoft would want to parlay the buzz from the Windows 8 launch at the end of October and roll it into the Windows Phone 8 launch in November, which is when the release had been rumored to have been delayed. Of course, there have now been multiple rumors pointing towards a September release for both
HTC
and
Nokia handsets
, so there could be some truth in it.
The new info comes from two separate tips. First,
pocketnow
got a tip saying that the "initial announcement embargo date" for WP8 is September 30th, which is a Sunday, so that seems to point to October 1st as a possible release date. Second,
Neowin
has heard that Microsoft has already started seeding Windows Phone 8 handsets to "star developers" or "VIPs" from the WP7 lifecycle. The devs got handsets in return for a promise to have apps ready for the platform launch. Given how easy we've heard the coding to be for WP8, the 7 weeks or so until October 1st sounds like a reasonable amount of time for developers.
Of course, we still have our doubts for one big reason: Microsoft has notoriously been terrible about keeping RTMs under wraps. If manufacturers are going to have devices ready for October 1st release, they should have gotten the RTM for WP8 by now, and we haven't heard that news yet. Maybe Microsoft has been far better about guarding this software than every other bit of software the company has ever made, but we'll believe that if we see devices on October 1st.
Recommended Stories