Windows Phone 7 'Mango' update expected in late 2011
7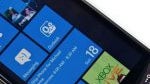 Windows Phone 7 users were hoping for a massive update to come in January. We told you recently, however, that the
January update
will likely only contain copy/paste functionality and CDMA support. Then there is another
update in February
, to be unveiled at the Mobile World Congress, which will contain increased customization options and improved developer tools.
According to ZDNet, a truly 'massive' update won't be coming until August or September of 2011. That update, codenamed 'Mango,' will add both the Silverlight plug-in and HTML 5 support for WP7's Internet Explorer. The rumor mill suggests that the 'Mango' update will actually be called Windows Phone 7.5, and we can hope that it will include multi-tasking.
The 'Mango' or Windows Phone 7.5 update will preclude the 'Apollo' update in 2012, which may in fact be Windows Phone 8. We can expect one of these updates, more likely 'Mango,' to contain increased enterprise functionality. Although
Windows Phone 7
would make a terrific enterprise operating system, it currently supports a limited portion of Exchange ActiveSync features.
But we want to know what you think. Is this rollout too slow for your tastes? Or are you satisfied with their slow-but-sure update strategy?
source:
ZDNet
via
BoyGeniusReport