Windows Phone 7 Mango Update Hands-on
6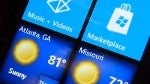 Shortly after Microsoft's VIP event in New York City ended, where some of Mango's new features were unveiled for the first time to the public, we managed to get a very quick look at Mango itself, but only a tiny bit of what it fully entails.
Using the usual Windows Phone 7 prototype handset from ASUS, we're able to grab a quick peek at Windows Phone 7 Mango – though, we have to admit we're still starving for more. Showing off how the new
Weather Channel app
, it's obviously nice to see third party apps finally getting in with notifications with their live tiles. So far, only very few apps currently available offer this function, like the Weatherbug app, but it doesn't have the same approach that we're seeing now with Mango. Still, it's nice to see pertinent information being pushed to their specific tiles on the homescreen; as opposed to launching the dedicated app. Moreover, some background processes allow it to update accordingly so you're always constantly informed about changes.
Additionally, we're able to scope out the
multi-tasking element
that's coming to the platform, when combined with the new "
instant resume
" feature, as it allows you to move between apps without much wait. Holding down the back button, small preview windows of each opened apps are displayed, and from here, you can instantly jump into a specific one. Still, we're rather reserved until we actually experience the final implementation ourselves, but nevertheless, we're excited about what's coming.
Although brief, we'll soon learn more about the
500 new features that's coming to Windows Phone 7
. We undoubtedly heard some exciting things with the platform, but we'll all have to wait until this
fall
before we actually
see a handset running the new update
.
Recommended Stories