Windows Mobile 7 doesn't support 6.X apps?
3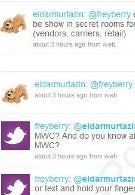 Eldar Murtazin from mobile-Review was able to get his hands on a copy of Windows Mobile 7. His comments, sent out from his Twitter account, are interesting. He says that the OS has been built from scratch. As a result, none of the 6.x apps will work on the software. He says there's "a lot of horizontal movements, a lot of additional info byclicks... for WM users it will be a great step ahead. For market it's acopycat of Android
3.1
/
3.2
[or
iPhone
." (He probably meant Android 2.0/
2.1
). It sounds like the guys at Redmond are using the ole' Scorched Earth technique by starting all over again and-at this point in time anyway-that collection of apps that you've built will also have to be started from scratch and the Windows Marketplace for Mobile will need a department filled with Windows Mobile 7 compatible downloads. We should learn more next month at MWC-if Windows Mobile 7 makes the trip. For the entire tweet of the conversation with Murtazin, visit the source link.
source:
WMPoweruser
via
EngadgetMobile