Windows 8 tablets might go for $599-$899, thanks to stubborn pricing from Intel and Microsoft
26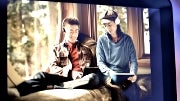 Intel and Microsoft are rumored unwilling to lower the pricing for the Clover Trail chipsets, and the Windows 8 licenses, respectively, thus making it difficult for manufacturers to gain tablet market share with Win 8.
If the dynamic Wintel duo goes with the same profit margins it is used to, this could translate to a $599-$899 price range for a Windows 8 tablet that can run all of the millions of Windows Programs written so far, depending on the configuration.
These are not far from ultrabook prices, where you get larger screen, physical keyboards and likely way more hard drive storage, compared to a tablet, not to mention rival Android and iOS slates with ARM chipsets, whose market share probably won't be dented much if Win 8 slates running on Intel chips are outed at more than $600 a piece.
Samsung, Acer, Asus and others will be making such slates, with
Lenovo even featuring one with Intel's Clover Trail platform
at CES last week, but unless Intel and Microsoft work something out with the manufacturers, Win 8 tablets with backward programs compatibility likely won't come cheap for the average non-enterprise consumer.
source:
Digitimes