Will you sign up for Apple's new iPhone Upgrade Program?
32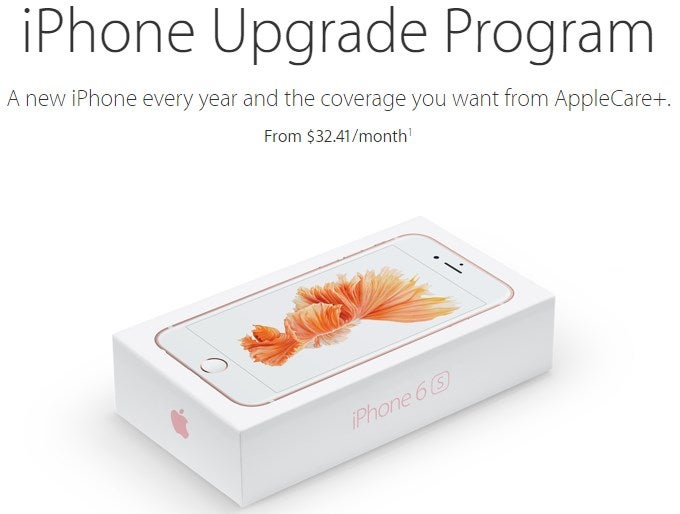 Apple made one of its biggest announcement events ever last week, putting the spotlight on the new
iPhone 6s
and
6s Plus
, coming with an upgraded 12 MP camera, and a
3D Touch
pressure-sensitive displays. In a typical fashion, Apple announced the new iOS telephony gear on Wednesday, September 9th, and is launching the phones in its retail shops on September 25th.
Not only that, but there will be a new iPhone Upgrade Program in Apple's retail stores, that will guarantee you always have the newest iPhone, starting at $32/month for the 16 GB
iPhone 6s
. In 12 months, you can return the iPhone you got with it, and get the new version, extending your Upgrade Program for two years again.
AppleCare+ is included in the monthly installment, and covers up to two accidents for the two rolling years, though you still have to pay the $99 service fee if you, say, broke your screen, and want it replaced. The new iPhone-for-life project is available only in the Apple Stores, though you can reserve online, and only for eligible US customers with valid credit.

Apple's strike-back move to the decreasing carrier subsidies makes the cost of iPhone ownership pretty bearable when spread over time, plus you can always get the new gear on the next upgrade cycle. Apple, on the other hand, will
make roughly $884 in revenue from this arrangement
(12 months x $32, plus selling the iPhone as refurbished for around $500 the next year), so it sounds like a win-win combo for both sides. There are some cheaper iPhone-for-life options from carriers like Sprint, though, that is why we wanted to ask you if you think the Apple iPhone Upgrade Program is a good deal to take part in. Take your pick, and tell us why in the comments.