Will future updates remove Flash from the Motorola DROID?
45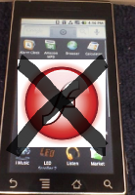 Motorola DROID owners have just updated their phone to download Adobe's Flash Player 10.1. Now, the software company might be planning on playing Indian Giver. Adobe has raised the minimum specs required for Flash Player 10.1 to run on a phone with a WVGA display. The new requirements ask for the handset to be equipped with a Cortex A8 800MHz processor. The first-gen DROID features a 550MHz chip.
So what does this all mean for DROID owners? Are the new requirements only for future updates? Is the DROID somehow grandfathered in? Hopefully, Adobe will make some announcement that will clarify things. Considering that the DROID was one of the first handsets that Adobe showed on video running Flash Player 10.1, it would be unusual for them to suddenly leave owners of the device high and dry. In today's rapidly changing cellphone world, things can change in a flash.
Motorola DROID Specifications
|
Review
source:
AndroidPolice