Will Windows Phone 8 be child friendly?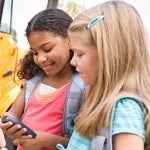 We've seen many young children, as young as 3, playing with a tablet or a smartphone. Most parents don't care and in fact, welcome the use of these devices as
sort of a high-tech pacifier
that keeps their kid busy. It is older kids, say 10 years old and up, whose mobile device use worries the parents more. Sure, the kids in that demographic might not drop that $500 Apple iPad as much as the toddlers do, but then again the toddlers are less apt to go out searching for porn on the iPad.
WindowsPhoneHacker
, in the software key in the Windows Phone 8 registry found on the emulator, was a subkey named "Family". Under "Family" was a branch called "KidZone". A look at the configuration data pointed to the idea that
Microsoft would be offering a kids-safe mode
to those using the OS. A Google search of the name found that KidZone is a trademarked name for an Android app that allows the owner of an Android device to lock out any feature or application to anyone who doesn't know the password. This obviously would prevent kids and adults from finding things on your device (like the browser) that you don't want them to find.
Whether this will be a feature that comes with the launch of the OS or later down the road is unclear. Considering that the KidZone name is trademarked, this could be just a codename for a similar function that Windows Phone 8 users will have. On the other hand, this could be one of those stories that require a quick shake of salt. Not that such a feature would be bad. It could allow you to lend your Windows Phone handset to your teenager without worrying that your device was being used for sexting.
source:
WindowsPhoneHacker
via
WMPoweruser