Will T-Mobile be the iPhone's next carrier?
This article contains unofficial information.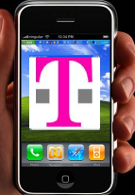 While many have been expecting Verizon Wireless to carry the iPhone once AT&T's exclusivity period expires, Kaufman Brothers analyst Shawn Wu has a different theory. Based on the fact that AT&T and T-Mobile both use the GSM standard as opposed to the CDMA technology espoused by Verizon and Sprint, it would be a lot easier for Apple to accommodate the nation's fourth largest carrier than it would be to make the changes necessary to have the handset run on Big Red's network. "Currently, T-Mobile's 3G service (UMTS/HSPA) supports 1700 MHz and 2100 MHz frequencies while AT&T supports 850 MHz and 1900 MHz frequencies," Wu wrote in a report to his trader clients. "Interestingly, both the new iPhone 4 and iPhone 3GS support 3G at the 2100 MHz frequency and, from our understanding, the technical hurdle to support T-Mobile is minor compared to supporting CDMA technology at VZ and Sprint." On the other hand, there is the financial aspects of partnering with Verizon. The latter carrier has 93 million customers while T-Mobile has 34 million people using its network. Adding Verizon could double the potential number of iPhone users while bringing T-Mobile into the fold would increase Apple's potential market by 33%. But according to analyst Wu, at this stage in the iPhone's life cycle, a simple change to the unit's radio would be the next step taken by Apple to add another carrier in the U.S. once AT&T loses its stranglehold on the iPhone.
Apple iPhone 4 Specifications
source:
AllThingsDigital