Will Palm get a takeover offer?
5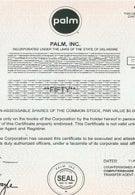 Jonathon Goldberg, an analyst with Deutsche Bank, wrote to clients today that Palm could be the target of a takeover bid. While there is no definitive bid on the table, the analyst wrote that Palm would be a great target for another company that is looking to move into the mobile phone market. Palm also would be a good fit for a larger company that already has a mobile presence and wants to expand its footprint in the U.S. (Nokia and Dell are two names that come to mind here). If the company is purchased, the buyer will be getting a highly thought of operating system (webOS) that should increase in value as the years go on. Goldberg also speculated that the Palm App Catalog, with currently 1,300 offerings, could overtake RIM 's App World and the Android Market in terms of the number of apps available. The latter has almost 20,000 apps to choose from already, so that will require some heady growth by Palm. And the analyst believes that Palm will sell more than 600,000 units of the newly launched Palm Pre Plus and Palm Pixi Plus through Verizon this quarter.
As far as being a potential takeover target, Goldberg writes, "recent developments have made electronics vendors realize they needto control their own destiny in the smartphone space." Most othermobile device vendors are too large, or have too many other businessunits, to be considered for a deal. As the only standalone entity, we think there is areal potential for Palm to be acquired in the next two years." Other analysts have also written that Palm could be bought out, naming Hewlett Packard or Dell as possible suitors. The latter company already presented its own smartphone at last month's CES.
Palm Pre Plus Specifications
|
Review
Palm Pixi Plus Specifications
|
Review
Dell Mini 3 Preliminary Specifications
source:
WSJ
via
everythingpre