Wi-Fi signal strength an issue for users of the new Apple iPad
43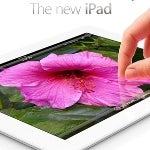 The new Apple iPad is less than a week old and already there seems to be a
problem with the Wi-Fi connectivity
on the tablet. Some users are complaining that the Wi-Fi signal strength on the new iPad is too weak. One user in a hotel room said that the hotel's Wi-Fi signal registered as the strongest possible and yet the iPad showed a weak signal. Another user had to post to a blog about the new iPad from his OG Apple iPad because his new tablet wouldn't pick up the Wi-Fi signal that his older Apple tablet did.
Some buyers of the new iPad
are ready to return it
. One frustrated iPad buyer is upset because in a room where there is perfect Wi-Fi reception for an Apple iPhone and two MacBooks, the new iPad won't hold a Wi-Fi connection for more than 2 minutes."
Ready to return iPad!!!,

" said the user. One iPad owner said that the Wi-Fi on his iPad wouldn't work unless he was within 6 feet of the router.

If this all sounds familiar, it's because Apple had similar problems with the original Apple iPad in 2010 and that problem was resolved with a subsequent software update. And in addition to the problem with Wi-Fi connectivity, there was also talk that the third iteration of Apple's tablet was running hot, about 10 degrees warmer than the iPad 2. The Cupertino based firm has denied this, saying that the new iPad runs within "thermal specifications."

The only other issue regarding the tablet is the

speed at which users are blowing through their monthly data cap

. If you are streaming video, your best bet is to do so over a Wi-Fi hook up. In 2010, PC Mag's mobile analyst S
ascha Segan showed how easy it was to burn 5GB over Verizon's LTE network in just 32 minutes. If you call Apple or Verizon, they would suggest that you use your Wi-Fi connection. And you might have no problem doing that except for the problem that iPad users have had with Wi-Fi connectivity. See what we did there? It's the whole

Circle of Mobile Life thing

.

source: PCMag