Why the new Pebble app and app store for Android is delayed
12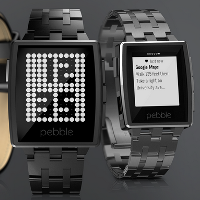 It has been over a week since Pebble released its 2.0 app for iOS, which included the Pebble app store. At the time,
Pebble said that the Android version would be coming soon
. But now, that doesn't seem to be the case. On its own blog, Pebble had Kean Wong, the head of its software engineering group, explain why those Pebble users wearing the Android version of the timepiece have been shut out for now.
Wong begins his explanation by saying that Android users are important to the whole Pebble team. That statement alone foreshadows bad news ahead for Pebbles' Android users. He explains how he wears two Pebble watches at a time so that he can continually test both the iOS and Android version of the watch. He also explains how complex the 2.0 Pebble Android app is, how it runs on 27 different flavors and versions of Android 4.x and needs to continue to update in the background even if Android is powered off.
Wong says that the reason why the Android version of the app has lagged the iOS variant, is the lack of resources on the Android side. Pebble has had a small team working on the Android update. A version of the 2.0 Pebble Android app has been sent out to developers and it is the feedback from these code jockeys that Pebble is using to make the update as good as it can be. Still, Wong writes, "
In order to ship a high quality, reliable Android experience that will work for many thousands of users across the myriad of devices and operating systems, we need engineers working on the Android app who are both fantastic engineers and great Android developers
."
"The reason why the Android version of the 2.0 Pebble app has lagged the iOS version is fundamentally pretty simple – it has purely been a matter of resources. In order to ship a high quality, reliable Android experience that will work for many thousands of users across the myriad of devices and operating systems, we need engineers working on the Android app who are both fantastic engineers and great Android developers. We have had a very small team working on the 2.0 Android app for a long time, building up the foundational pieces of the app (such as the Javascript environment, to expose the Javascript capability enabled in many new 2.0 Pebble apps), working on the appstore integration, and doing a huge amount of work on the user-onboarding process...We have released previews of the 2.0 Android app through our developer program, and will keep refining the Android app until it is working well for all Android users – only at that point is it ready to go out the door."
-Kean Wong, head of software development group, Pebble
Reading Wong's comments, it surely sounds that the Android update will not be ready as soon as Pebble initially said it would be. Wong says that the Android app won't go out the door until it is working for all Android users. That will require a constant refining of the app until that point is reached, and it is not going to happen that quickly.
Sounds like Android users picked the wrong, ahem, time to buy a Pebble smartwatch.
source:
Pebble
via
AndroidCentral