Why Apple and Samsung are not giving us a truly all-screen flagship
13
This article may contain personal views and opinion from the author.
I recently showed the Samsung
Galaxy A80
to a friend and he was immediately impressed with the phone. "Why isn't this a flagship," he asked, wondering how he'd never heard of it. To me it made sense, but only because
that's my job
. To him, the Galaxy A80's sleek all-screen facade and "futuristic," as he called it, rotating camera and sliding design looked infinitely better and more advanced than the Galaxy S10's hole-punch display. And I can't argue with that, it does look cooler. Even the majority of our readers seem to agree, based on one of our
recent polls
. However, what may at first seem futuristic, is in fact nothing more than a compromise to eliminate one issue—in this case the hole-punch camera or notch—that creates other, arguably worse, problems in the grand scheme of things.
But the Galaxy A80 looks so much cooler and has a number of advantages over the
Galaxy S10
flagship line. Right? For one, it doesn't have a notch or a hole in its screen. What's more, even though there's no dedicated selfie camera, you can now just use the main camera, which simply rotates to face you when needed. This means that you can take high-quality selfies, using all advantages of the triple camera setup on the A80, without compromising the beautiful,
edge
-to-edge display. So then, why are the flagship phones offered by Samsung, Apple, Huawei, LG, and all other major brands, just dull glass-and-metal slabs with all sorts of different notches and holes in their screens, while more affordable devices from
some of the same companies
are pushing the boundaries of smartphone design with sliding displays and pop-up cameras? Well, there's a couple of very,
very
good reasons for that.
It's not because the companies can't do it, but because it's not a good idea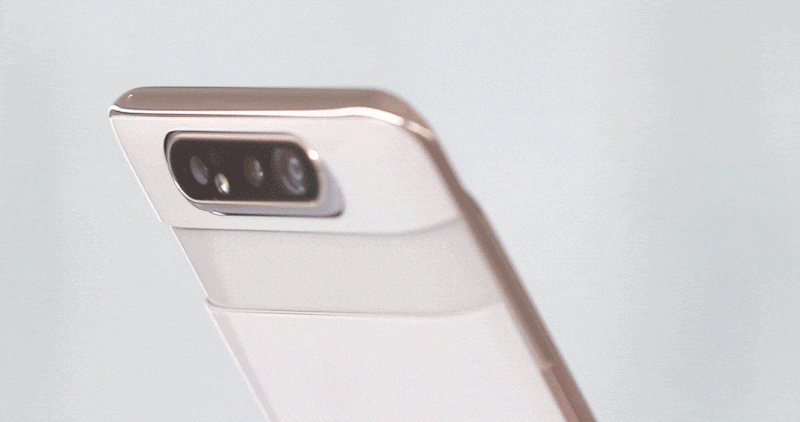 Adventurous designs like those are something that smaller Chinese companies (read: with smaller market reach) would do, but Samsung and Huawei (Honor) have now embraced some of the more off-beat sensibilities in their more affordable smartphone lines. But the flagship models are all playing it safe with their solid-state designs, camera holes, and notches.
The number one reason for that would probably be because flagship lines are more popular and likely to sell more, and solid-state design is just more accident-proof. This may sound like a weird reason to shun away from futuristic sliding displays and turny-flippy cameras, but when you're selling a large volume, asking premium prices, and investing big in marketing, you want to deliver a reliable product that's likely to survive a couple of drops or some accidental exposure to the elements. The more people get their hands on a product, the more it is going to get abused. Simple as that. Phones with moving parts are simply more prone to mechanical problems and offer no water or dust protection, while solid-state designs have proven to be considerably more reliable.

Our readers seem to agree that the Galaxy A80 is doing something right in its approach
And the second major reason is that "weird" designs like those don't offer a meaningful improvement to the overall user experience. Sure, they solve the problem of having a notch or a punch-hole camera, but at what cost? My colleague Preslav recently shared the
experiences he's had with various off-beat Chinese phones
over the past couple of months. He describes himself as someone who's
"barely into selfies,"
so he thought that the extra actions needed to actually get to the now hidden (or flat-out missing) selfie camera would not bother him much. Turns out, he was wrong:
The fact that these specific cameras made me put in the extra work to access selfie mode kind of underlined to me that I do use a front-mounted snapper more often than I would think. Usually to send a funny reaction when someone asks "What are you up to?" and I am too lazy to type a response. Yeah, we are living in the future for sure.
Though there are people who may not fully agree with this opinion, it serves perfectly to illustrate just how essential the front-facing camera has become in smartphones – even to someone who's barely into selfies. Simply making an essential feature harder to access because we don't have the technology to create the most optimal design without some sort of compromise, is not the best idea ever.
Last year, we called the
notch
(and its derivatives) a stop-gap to the all-screen phone of the future. We can now safely say that slider phones and mechanized front-facing cameras are also a stop-gap, a temporary compromise—literal, structural compromise—on our way there. Which approach you prefer comes down to personal taste, but companies like Samsung and Huawei have good reasons to keep experimental solutions limited to a select number of markets and product lines, or to not adopt them at all in Apple's case.