Who's got ad blockers on their phones? Latest stats show Asian nations lead usage
40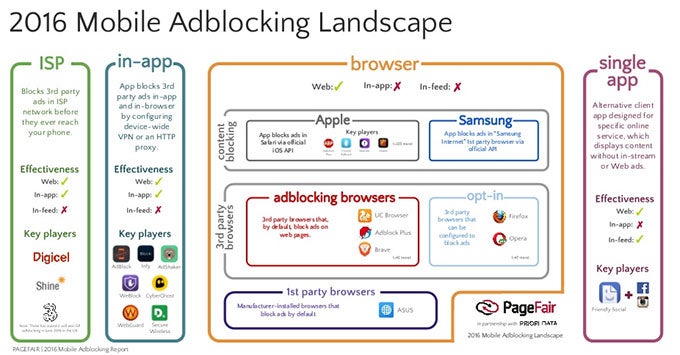 We are living in the era of the mobile ad blocker. Call it an inevitable consequence of the sheer reach advertisements have over all facets of our life, or a reaction to feeling like we're less and less in control over the content we consume on our mobile devices, but for whatever reason, ad-blocking software has reached previously unheard-of levels of popularity; Apple gave
iOS 9 the ability to block ads
through Safari last year, Android phones are
shipping with ad blockers pre-installed
, and carriers are even getting into the ad-blocking game for themselves. But with all these options out there, who's actually taking advantage of them? A new report from PageFair and Priori Data just landed to help shed some light on the the state of ad-blocker usage.
Far and away, the vast majority of smartphone users blocking ads are those in Asia and the Pacific. China alone accounts for 159 million ad blockers, and India's not far behind at 122 million. Compare those with the US, where just
2.3
million mobile users run ad-block software.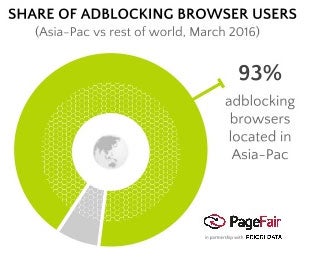 Proportionally, that means that slightly more than a third of all smartphone users in those regions have ad blockers installed. One analysis suggests that this high incidence can be attributed to efforts to conserve scarce bandwidth.
That's an alarming statistic that means we could be about to see ad blocker usage explode; as smartphone growth slows in established markets, and the new users of tomorrow increasingly come from areas where connectivity is poor and bandwidth can be hard to come by, the use of ad blockers to speed load times and conserve data could experience heavy growth.
It's not just users with ad-block plug-ins for their browsers (or using browsers that natively block ads), and VPNs or proxies that block ads in apps as well are growing in popularity. That said, browser-based blocking is still more popular than in-app ad blocking by an order of magnitude.
Do you run an ad blocker on your phone? We'd love to hear your thoughts in the comments on why you do or don't. And if you
are
among this growing group of mobile ad-block users, it'd be
much appreciated
if you added PhoneArena to your whitelist; we've got to pay to keep the lights on somehow!
source:
PageFair