Who on Earth uses your Windows Phone camera to identify friends
9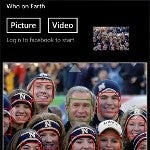 So you are walking down the street when someone approaches you and starts talking to you as though he were your best friend. The problem is, you can't remember his name. If you own a Windows Phone model, you do have a solution besides taking a wild guess.
Who on Earth
is an app that uses a picture from your camera roll, or captured on your camera preview to
match an image on the picture with a name
from your Facebook friends.
You can even impress your pals by recreating the
face recognition scene
from Mission Impossible Ghost Protocal. The app does all of the heavy lifting. All you need to do is choose a picture from your camera roll, gallery or social networking profile, or use the camera on your phone to take a preview without saving the shot. Faces are quickly identified by name on the screen with a degree of confidence. You can set the app to automatically log into Facebook and you can even find out how many of your Facebook friends have public images. In case you are worried, the app saves
not one iota of personal information
.
Who on Earth
is 99 cents from the Windows Marketplace although there is a free trial period supported by ads.
source:
WhoonEarth
via
WMPoweruser