Some 2017 Apple iPad Pro models have bright white light above the home button, marring the display
99+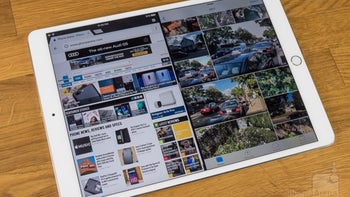 Affecting the 2017 10.5-inch and
12.9-inch models of the tablet
, the bright light appears one to two inches above the home button. The spot is brighter than the rest of the screen. The good news is that several iPad Pro owners with this problem were able to take their device to the Apple Store, and they received a replacement. We should warn those with a unit no longer covered by a warranty or AppleCare+ , that they might be out of luck. Even if the bright light is due to a problem with the tablet's back lighting, those out of warranty and without insurance will be asked at the Genius Bar to pony up $449 to replace the display on the 10.5-inch iPad Pro, and $599 for the 12.9-inch iPad Pro.
"I have a bright spot about 1-2 inches above the home button on my iPad Pro 10.5 inch wifi model. I just noticed the white spot last week when I was looking at some white background content, the spot does not appear on darker colors like black, grey, blue -most prominent on white."-NorbertE, Apple Communities
Since the problem didn't start to appear until the devices were a few months old, it is too early to determine if a similar issue will mar the screens of the
11-inch
and
12.9-inch
2018 Apple iPad Pro models. One thing is for sure though, owners of the latest units won't be able to complain about a bright light above the home button; the new models use gesture based navigation and Face ID similar to the recent iPhones, and do not sport a home button.
Recommended Stories