White iPhone 4's SKU deleted from the Apple Store, the elusive handset may never see the light of day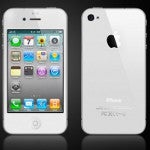 The white
iPhone 4
is the Keyser Soze of the mobile industry - it is so elusive only a selected few have seen it in flesh. Even worse, it may turn into a myth that has never seen commercial release as it's reported its SKU was deleted from the Apple Store.
9 to 5 Mac reports that the Apple Store went down at midnight EST and a quick glance at the Apple system at that time revealed only one noticeable difference compared to what was previously displayed - the white iPhone 4's SKU wasn't there. The store is up as we speak, but the SKU in question is still missing and there is no new SKU for the elusive handset, hence a logical conclusion is born - probably the white iPhone 4 will never be released.
Of course, it could mean it's to be launched very soon with a new SKU, but, as of now, there are no indications this is the case. All in all, it seems much more likely that Apple has scrapped their plans to release the white version of the iPhone 4.
This runs contrary to what we have heard from
Phil Schiller
, Apple's senior vice president of worldwide product marketing and
Steve Wozniak
, an Apple icon - they claimed the white iPhone 4 is to be released in either Q1 or Q2 of this year.
source:
9 to 5 Mac