White iPhone 4 nearing release
5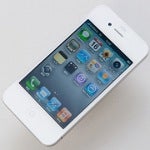 The white
iPhone 4
is almost as mythical (and elusive) as the white unicorn, but it seems this beast (we mean the iPhone, the unicorns are said to be gentle creatures) is set to appear very soon.
The official word from Apple stated that we should expect it in "
Spring 2011
" in the USA (and the more specific February 2011 in Europe), and the
Best Buy
internal system shows that the online retailer is anticipating the white iPhone 4 to be in stock as soon as
February 27
.
To make things even clearer, it's reported that Steve Wozniak (Apple's co-founder) commented that the white iPhone 4 is ready during the Engadget Show, and he expects it to be available to the general public "very soon".
It seems virtually certain that we're going to see the white iPhone 4 in the coming weeks, but are you going to buy one, as the iPhone 5 - whether black or white - is nearing release?
via
Neowin