White iPhone 4 finally official, available tomorrow on Verizon and AT&T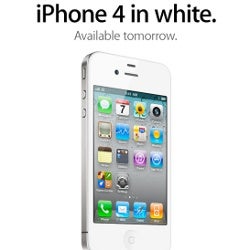 You got it right – this time it's nota rumor, nor even half-official – the mythical white iPhone 4 isofficial and it greets you right on Apple's home page. You won't evenhave to wait long as the release date for Apple's white iPhone 4 is set fortomorrow. You should already know all about it – it's just like theblack one and it's coming on both Verizon and AT&T. The price taghasn't changed, so you should prepare to dish out $199 for a 16GB model and $299for 32 gigs, both coming with a two-year contract. Neither have the specs - a high-res retina display, iOS and excellent camera are all aboard and to learn more about them feel free to check out our in-depth review of the iPhone 4.

The mostdistinctive feature of the white iPhone 4? It's beautiful:


"The white iPhone 4 has finallyarrived and it's beautiful," said Philip Schiller, Apple'ssenior VP of Worldwide Product Marketing. "We appreciateeveryone who has waited patiently while we've worked to get everydetail right."
The pale handset is coming not onlystateside tomorrow, but to a number of countries as well including Canada, theUK and most of Western Europe, along with China. Are you getting it? Share yourexcitement and let us know in the comments below!
source: Apple