White front Moto X on 4 week delay through Moto Maker due to "unexpected demand"
15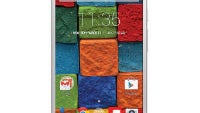 This is some pretty bad timing right here. The Moto X is finally finishing its pre-order period with AT&T and is going on
sale tomorrow for Verizon
customers, but the Moto Maker site is listing a big delay with some orders. Right now, the Moto Maker site is saying that any orders for a device with a white front are delayed up to 4 weeks.
Any custom Moto Maker orders with a black front are still in stock and shipping as normal, which is to say it would take an estimated 12 days to receive a black-front Moto X. But, any orders for a white front Moto X are being delayed 4 weeks because the white front plates are on backorder. Even worse, this delay apparently is affecting orders already placed through Moto Maker. We ordered a white Moto X back on September 18th, and apparently even that order has been delayed.
We spoke to Motorola and were told that priority was given to pre-orders for the black Moto X, so those orders should be fine. But, there was "unexpected demand" for the white Moto X models, which has caused a shortage of the white front panels. The first Moto X had far more demand for the black than white, and Motorola expected the same this time around. Motorola says it is the same reason why the grey Moto 360 went out of stock so quickly, it was expected that the black would be more popular.
That said, it is still disconcerting that our order, placed two days after the pre-order began, would get caught in this delay. That shows a troubling lack of preparation from Motorola.