While announcing the Nexus 6P, Google bashed iPhone's low screen-to-body ratio
57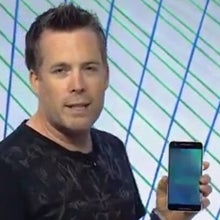 Earlier today, in San Francisco, Google's Sundar Pichai and other important Google employees
took the stage
to announce - among other things - two new Nexus smartphones: the
Nexus 6P
and
Nexus 5X
. While the 5X is a pretty affordable handset that can't stand next to today's flagship smartphones, the Nexus 6P is a high-end, metal-made device that's offering a lot of bang for the buck (prices for it start at $499).
While unveiling the Nexus 6P, Dave Burke, Vice President of Android Engineering at Google, praised its 5.7-inch AMOLED display with 1440 x 2560 pixels (Quad HD).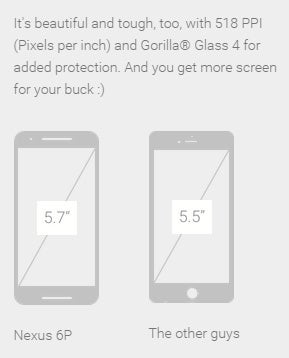 According to Google, the screen of the Nexus 6P occupies 74% of the device's front - this making the 6P similar in size to various 5.5-inch handsets. In particular, Google compared the Nexus 6P (159.3 x 77.8 x 7.3 mm) to Apple's
iPhone 6s Plus
, which, despite the fact that it sports a 5.5-inch screen, is about as large as the new Nexus, measuring 158.2 x 77.9 x 7.3 mm.
Of course, we need to point out that the bezels of the Nexus 6P aren't the thinnest we've seen. There are plenty of smartphones out there with higher screen-to-body ratios (for example, the Motorola X Style, which is also a 5.7-inch handset, offers a 76.36% ratio), but it's still interesting to see Google particularly picking on Apple for its affection towards huge bezels. The iPhone 6s Plus has a 67.9% screen-to-body ratio, while older iPhone models offer even poorer ratios.
source: Google