Which version of Android is your smartphone running on? - Christmas edition
53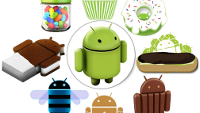 As a direct result of Android's open nature, the platform is uniquely fragmented in that even within a single manufacturer's product portfolio, devices are running on top of different versions of the OS. For the most part, this has to do with the custom overlay phone makers stitch on top in order to differentiate their offerings from competitors', as that extra code needs to be brought up to speed with each new update. And that requires time, effort, and money.
With the above in mind, it's no surprise that when we polled you
back in March
, asking you to report your current Android build version, the results were all over the place — at least relatively speaking. Still, since participants (that's you guys) hang around tech sites such as our own PhoneArena, and are obviously involved enough to take part in polls, the actual outcome of the poll wasn't at all representative of the state of Android globally. Back then, when Lollipop was still the very latest in Android's world, nearly 40% of you said they already have it on their phone. The number worldwide stood at a little over 3%. And since it's been nearly 9 months since, it's time we did this little exercise once again and see how far Android has moved along since.
Go right ahead and vote for the Android version your device is currently running. If you're unsure, you can check by going to
Settings > About phone
and look for
Android version
.