Which of the tablets announced at CES 2016 did you like the most? (poll results)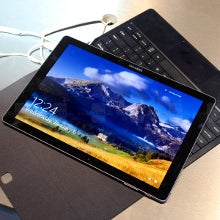 We asked you yesterday which of the tablets that were announced at CES 2016 did you like the most, at least on paper. Granted, the number of slates was admittedly small compared to previous years, and still there were a couple of good hits, especially Samsung's Surface killer, the
TabPro S
, which took away the overwhelming majority of your votes, followed by Huawei's
MediaPad M2 10
.
The CES 2016 is in full swing, but we've already had our fair share of mobile-related announcement with phones and tablets arriving from Samsung, LG, Huawei, Alcatel and a few others. The tablet unveilings in particular have been few and far between, reflecting the changing dynamics from the times that Apple's iPad ruled supreme, to the current state of affairs where tablets are seeing a decline in both interest and purchase for the sake of phones with larger displays, or thin and light laptops.
In any case, that doesn't mean there weren't a couple of interesting tablets presented at the CES expo. The unveilings started with the lowly
Alcatel Pixi 4 (7)
and
Alcatel Pixi 3 (8) 4G
, which are humdrum 7" Android and 8" Windows slates, respectively, at ultra low prices.
In that train of thought, Acer announced its $99
Iconia One 8
on the same date. Its display has an 8-inch diagonal and sports a 720 x 1280 resolution, making for a 162 PPI
pixel
density, and it's powered by a quad-core MediaTek SoC, 1 GB of RAM, and has 16 GB of storage, expandable up to 128 GB via microSD card. The tablet features a couple of modest snappers – a 5 MP main camera and a 2 MP front-facing one. It runs on Android
5.1
and while we don't have the exact battery capacity, Acer promises around 9 hours of battery life.
The so-far anemic tablet catwalk picked up from here, enriched with Huawei's
MediaPad M2 10
. The new Android tablet is made out of aluminum and boasts a sandblasted metal finish, keeping up with the brand's established design quality. It sports a 10" 1080p display, Kirin 930 chipset, 2 GB of RAM for the basic version with 16 GB storage, and starts off at $349.
The big slate guns were taken out by Samsung almighty, which introduced the first Windows-based Galaxy in the form of the
Samsung Galaxy TabPro S
. The 12-incher has a Quad HD Super AMOLED display, detachable keyboard part, 4 GB RAM, and is powered by a Core M mobile processors, coming with various amounts of storage. The Win 10 hybrid, however, is a bit steep to buy, at the 999 EUR or USD tags that have been popping up here and there.