Which new feature do you like most in iOS 6?
45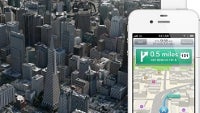 Apple
lifted the veil over the sixth edition of iOS today
, and, while it doesn't bring any major interface changes, it does introduce over 200 novelties, big and small, so we wanted to ask you which of the announced features you like the most.
The big one is, of course,
Maps, which in iOS 6 is divorcing Google's navigational software
completely for Apple's in-house solution, but we also got
Siri learning new tricks
, some new and useful apps like Passbook for organizing your travel, shopping and entertainment tickets, coupons and passes, as well as upgrades to default apps like Safari, Mail, Phone and Photos.
A ton of new accessibility features got introduced with iOS 6, and also a number of enhancements for China like Siri learning Mandarin and Cantonese, and Baidu search plus Pinyin writing. Which one of those newcomers do you fancy?