Which carrier offers the fastest mobile data and coverage: 4G / 3G speed comparison
90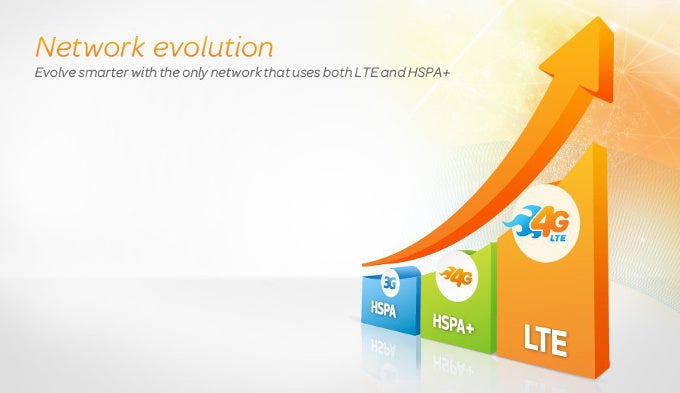 4G LTE has brought blazingly fast Internet to our mobile devices, with speeds often even higher than what home Internet connections offer. However, not all carriers are equal in their offerings, and speeds can vary hugely on different carriers. Nowadays, most major US metropolitan areas are well covered, but speeds still differ hugely and while a carrier might deliver extremely high speeds in one area, in a different area it might deliver a much slower connection.
To see what is the current reality of US carriers' cellular data speeds, we are comparing America's top 4 carriers: Verizon Wireless, AT&T, Sprint and T-Mobile. For this comparison we are looking separately at 4G and 3G speeds, as well as at latency. We have used data from the 20 largest metropolitan areas in the United States to come up with nation-wide averages (but you can also see the results per area). For the actual speeds, we are using publicly available data from OpenSignal's excellent maps. OpenSignal takes its data from over 1 million consumer devices, which is a great sample size. Here are the 20 metros we used for this comparison:
We compare the data speeds offered by the four largest US carriers: Verizon, AT&T, Sprint and T-Mobile

New York
Los Angeles
Chicago
Washington DC
San Francisco
Boston
Philadelphia
Dallas
Miami

Houston
Atlanta
Detroit
Seattle
Phoenix
Minneapolis
Cleveland
Denver
San Diego
Portland
Orlando
4G speed comparison

First, let's start off with 4G connectivity speeds. Surprisingly for some, T-Mobile has the lead with the absolutely fastest download speeds (averaging 8.1Mbps) across the 20 biggest US metros. AT&T is a close runner-up, scoring an average downlink speed of 7.64Mbps. Verizon gets the distant third spot with speeds averaging 5.59Mbps, while Sprint scores (now, traditionally) the lowest speeds of 4.62Mbps. Those are the nation averages, but we would recommend you look at not just the nation averages, but also at your particular area to see which carrier has the fastest speeds there.

We have used download speeds as the most common denominator, but if you look at upload speeds, the situation is radically different: Verizon, AT&T and Sprint all hover around the 6Mbps mark, while T-Mobile is much slower, averaging just below 3Mbps. This means that if uploading content on the go in the fastest possible manner is a priority to you, T-Mobile is probably not the best choice.


3G speed comparison
Turning to 3G speeds, we have a situation similar to the one in the 4G rankings: T-Mobile has a huge lead in download speeds, followed by AT&T, while Verizon and Sprint are distant runner-ups. Unlike 4G, though, upload speeds on 3G are very similar among all major carriers, averaging just above 1.3Mbps (only Sprint is slower at around 1mbps).
Average US latency speeds
Finally, we also have latency data. Latency measures the time it takes a network to transfer a packet from the source to the receiver. Simply put, the lower the latency, the better your Internet experience. Latency matters in all sorts of scenarios (you'd notice how fast a page loads in your browser), but it's crucial in situations like video conferencing and gaming. Take a look at the US nation-wide data below, to see the carriers offering the fastest latencies.



Coverage
Finally, we ought to say that we've looked at speeds and latency only, but we have not compared the actual coverage of the four biggest US carriers. 4G (and 4G LTE in particular) is one area where Verizon Wireless has the clear lead, as it covers over 500 markets, and that number includes a lot of the smaller towns where other areas don't have any outreach.
Verizon's LTE network reaches over 305 million people
at the moment, the most of any carrier.
AT&T was the second company to start its massive 4G LTE roll-out, and it's also the second in terms of coverage.
AT&T's network covers over 270 million people
, and the carrier plans to extend its coverage to nearly 300 million people by the end of the year.
Sprint started building its 4G LTE network later than the big two, but it's
stepped up coverage lately
, and is on its way to reach its target of 250 million people covered by mid-2014. We should, however, note that it would take longer, though, for all these markets and people to get the Sprint Spark network upgrade, which brings faster speeds (Spark delivers 4G LTE over the 700MHz channel).
Finally, T-Mobile, another relative newcomer to the 4G LTE game, is extremely aggressive in building a fast and reliable LTE network, and the results are already apparent in terms of speed. The 'Un-carrier' has recently unveiled plans to convert its EDGE stations to 4G LTE, and while we don't have any hard numbers for T-Mobile, we know that the nation's fourth-largest operator
plans to cover over 230 million people by mid-2014
, 250 million people by the end of the year, and more than 301 million by mid-2015.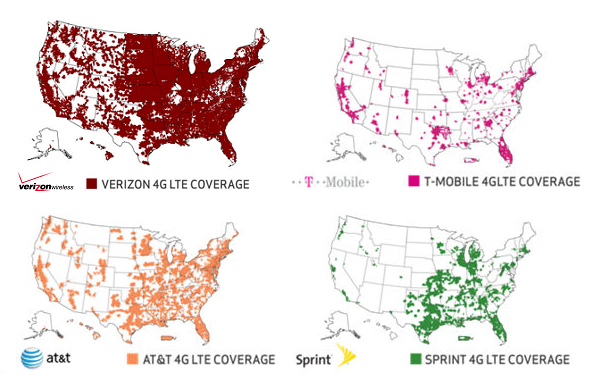 Coverage maps for different carriers come from Verizon's official webpage
Finally, we should say that you should carefully look at all these numbers before making a definite choice - choosing the right carrier is about picking not just the fastest, but the one with adequate coverage in your area. With this, we pass the ball to you: what's your experience with your carrier? Are you happy with the 3G/4G speeds and coverage you're getting? Let us know in the comments below.
reference:
OpenSignal maps
,
Verizon Wireless
,
AT&T
,
Sprint
,
T-Mobile
coverage maps