Which Android launcher are you using?
81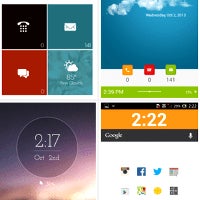 Besides the ability to
swap the stock keyboard
, messaging, or just about any kind of default apps that come with your phone, with different ones you download from the Play Store, Android gives you the option to change the whole interface layout with the so-called "launchers". These are a comprehensive combo of homescreen and app drawer arrangements, complete with their own icon packs, notification bar design, and a smorgasbord of functions and themes that your manufacturer overlay might be lacking, like a landscape UI mode, for instance.
Needless to say, not everybody is satisfied with TouchWiz, Sense, Optimus, Xperia, Emotion, Vibe, Color, or the other manufacturer-supplied user interfaces that come with our handsets, so they turn to third party solutions. We recently
rounded up some of the best Android launchers
, and, without pretending that the list is exhaustive, wanted to ask you which launcher is dearest to your heart, if you are always loading new launchers, or whether you are using a third-party launcher at all. Take your pick in the poll below, and throw some arguments behind it in the comments.